If you're looking for a home or residential investment mortgage, that's what I do - home purchase and refinance loans. Rusty Brown and I have recently opened a branch of a Nationally known company here in Lexington. CrossCountry Mortgage, Inc. is the name of the company and we're really excited about the home financing we're offering. Great Rates and reasonable closing costs on VA, FHA, USDA, and Conventional loans. The office is located at 841 Corporate Drive, Suite 202 Lexington KY and the office phone is 859/523-0559. So when you're looking for a home loan, you know who to call! You can also visit our office website by clicking the company logo below. It's a huge resource for anything you could ever want to know about homes and home financing :

Now for all the legal stuff: Our office is located here in Lexington KY in Corporate Center off of Harrodsburg Road. (There's a maplink below to help you find the office.) Rusty Brown's NMLS# is 19321 and my NMLS# is 54729. Our Branch NMLS# is 1278231 and our Kentucky State License # is MC313688. In addition to Kentucky, we hold licenses in Virginia & North Carolina so here's that info: Virginia - my License is MLO 19172VA and the Branch is VA MC-4072. North Carolina - my license is MLO I-160503 and the Branch is L-142902. I also have to publish the home office's information, so here it is: Cross Country Mortgage Inc. (NMLS# 3029) 6850 Miller Road Brecksville, OH 44141 440/845-3700.
Click here for a map to my office here in Lexington, KY:

If you'd like to get hold of me to ask a question or set up an appointment, just click my "Loan Officer on a Bike" logo below:

If you're looking for a Builder or Realtor, visit:
If you'd like to know my background, here's:
Here's something I live by that I'd like to share with you:
If you need to get hold of me, you can just click my card: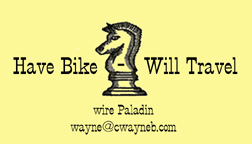 Check out the weather here in my Hometown:
Attention All Eagle Scouts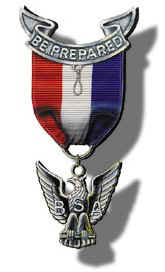 Do You Own This?
If you're an Eagle Scout, or if you know one, please click on the image above and update your information. This information will be furnished to NESA, the National Eagle Scout Association. When an Eagle is awards, the young man is usually living at home and about to move out on his own. Through successive changes of address, it becomes hard to track an Eagle as he grows and prospers through his business career. On this web page, it explains a little more about what we're trying to accomplish and why we need the Eagle's information updated.
If you're interested in saving the lives of Children, please check out the work St Jude Children's Research Hospital does. It's pretty amazing. You can donate securely and find out more about St Jude by clicking their logo: